Kedras Clinics is a mental health and wellbeing practice that recently opened in Edinburgh. They offer a combination of psychotherapy and neurotherapy for children, young people, and adults, helping each person achieve optimum emotional and psychological wellbeing. Their approach is based on neurocognitive assessments which provide them with an analysis of overall brain function, as well as sleep problems, potential impact from traumatic events and cognitive functioning. Here egg talks to four of the incredible and compassionate ladies behind the business…
Dr Dawn Harris, Clinical Psychologist and Founder/Clinical Director of Kedras Clinics
"Choosing to be a psychologist was at first accidental. I had to choose between specialising in law or psychology at university and my decision came down to not liking one of my law professors, so I opted for psychology. But after finishing my first degree I was absolutely in love with psychology, understanding people is fascinating, complex, simple, and humbling when you're able to help someone change their life for the better."
"I've had a varied career as a forensic and clinical psychologist for 23 years, which means I've worked in both the forensic setting (prisons, in courts) before opting to focus on clinical work. My forensic work was fascinating as I worked mainly with high-risk offenders in the Scottish Prison Service (SPS) where I became Head of Psychology for several prisons, and wrote trauma informed treatment programmes, that are now delivered throughout Scotland. I left the SPS in 2008 and established a private practice, opened a hospital specialising in trauma before selling this and going back into practice for several years. I then set up Kedras Clinics in 2022. Kedras means cedar tree (a tree associated with healing properties) in Lithuanian so it's a nod to my Lithuanian descent. My parents are from West Lothian, but my great grandparents moved to Scotland from Lithuania."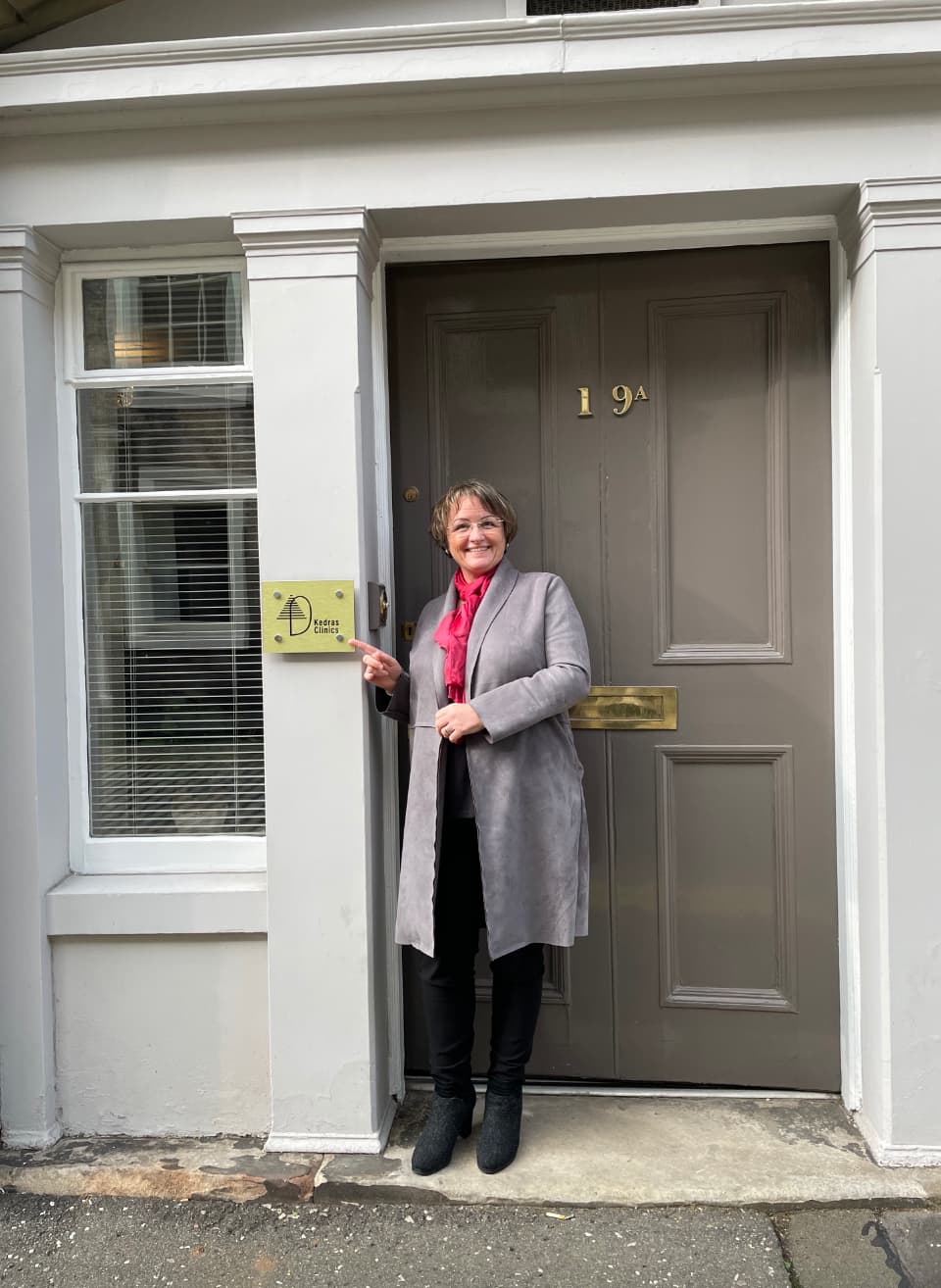 Why did you set up Kedras Clinics?
"I wanted to provide people with the opportunity to have access to a range of therapies, high quality compassionate and passionate therapists and the most up to date psychotherapeutic tools that can create change. I was also keen for a more holistic, whole person approach bringing together neuropsychology, neurophysiology, neuroscience, and neurobiology; effectively I wanted a practice that focussed on the body-brain connection. The links between our physical symptoms and psychological is significant, but unfortunately often missed.
"We have successfully worked with people experiencing chronic pain, headaches and tremors when medication or other therapies have failed. The damage that the stress hormone cortisol can do to us is often underestimated and yet by using a therapeutic tool such as neurofeedback we tap into such deep layers of the brain that we're able to help alleviate stress/stress impact and address the triggers/drivers/images/memories that exist in our subconscious driving many of our difficulties."
"We're in a changing world that is fast embracing technology/AI, and therapy is not immune to this evolution. I have embraced this to a certain extent and trained in Infra Low Frequency Neurofeedback a number of years ago, which is a form of neurotechnology known as a brain-computer interface model. It works by tapping into the brain's inherent ability to heal."
"Neuroscience is fast becoming an area of great interest to many, particularly as it can help people notice any signs of early cognitive decline, concussion, stress etc. Kedras Clinics therefore offer brain health checks as part of our service as I think it's important for people to understand that their brains are responsible for everything they do, see, behave, perform, function so the brain needs lots of care to ensure optimum function and performance."

What exactly is Infra Low Frequency Neurofeedback?
"Infra low frequencies are the brain's hidden, imperceptible electrical signals that operate at a lower range than what we typically associate with conscious thought. They represent the core of your brain's functioning, regulating everything from emotional stability and stress management to cognitive abilities and overall mental health.
"ILF neurofeedback is a non-invasive and painless process that involves monitoring and optimizing these infra low frequencies. We firstly measure your brain's electrical activity, specifically focusing on the infra low frequencies. This information is then fed into a computer program that analyses and translates it into real-time feedback, often in the form of audio or visual cues. During ILF neurofeedback sessions, you watch a TV that is playing animations, scenes of nature, movies, cartoons, abstract scenes, and other options, and whilst you're happily sitting watching this, your brain is seeing its own activity via colours on the screen, music playing and other sounds/vibrations. Your brain starts to recognise its own activity and learns to self-regulate and optimize its infra low frequencies based on the cues it receives. Over time, the sessions help you fine-tune and optimize these foundational brain frequencies, leading to improved cognitive function, emotional balance, and overall wellbeing."
Who can have ILF Neurofeedback? "It's effective with all ages, and we work with children, young people, and adults. It has evidence for helping people who have neurodiversity including ADHD and autism, stress, anxiety, depression, PTSD, CPTSD, chronic pain, motor disorders, tremors, long covid, menopause and so much more."
Tell us about a case study you're most proud about… "There are so many I could choose; however, I would say it was a woman who I worked with that had a history of developmental trauma. She had been in therapy for years and nothing was working. Neurofeedback was a game changer for her in so many ways, including saving her marriage as she was so full of rage and anger that her husband was struggling to cope. The couple are now happy, she no longer wakes up feeling depressed, no longer feels she's not good enough when around others. She talks about her "new brain" all the time."
The best thing about your job? "Helping create change in people that makes them smile, dance as they go out the door, their lives are easier, and they find relief from their pain."
Fun fact? "My glass is always half full, I love playing with my dog as she's my therapy pet."
Your advice for someone experiencing a difficult journey? "Stay determined and see each problem as a potential opportunity for change and development. As my Gran used to say to me, 'it's never too late to learn, but sometimes we learn too late'."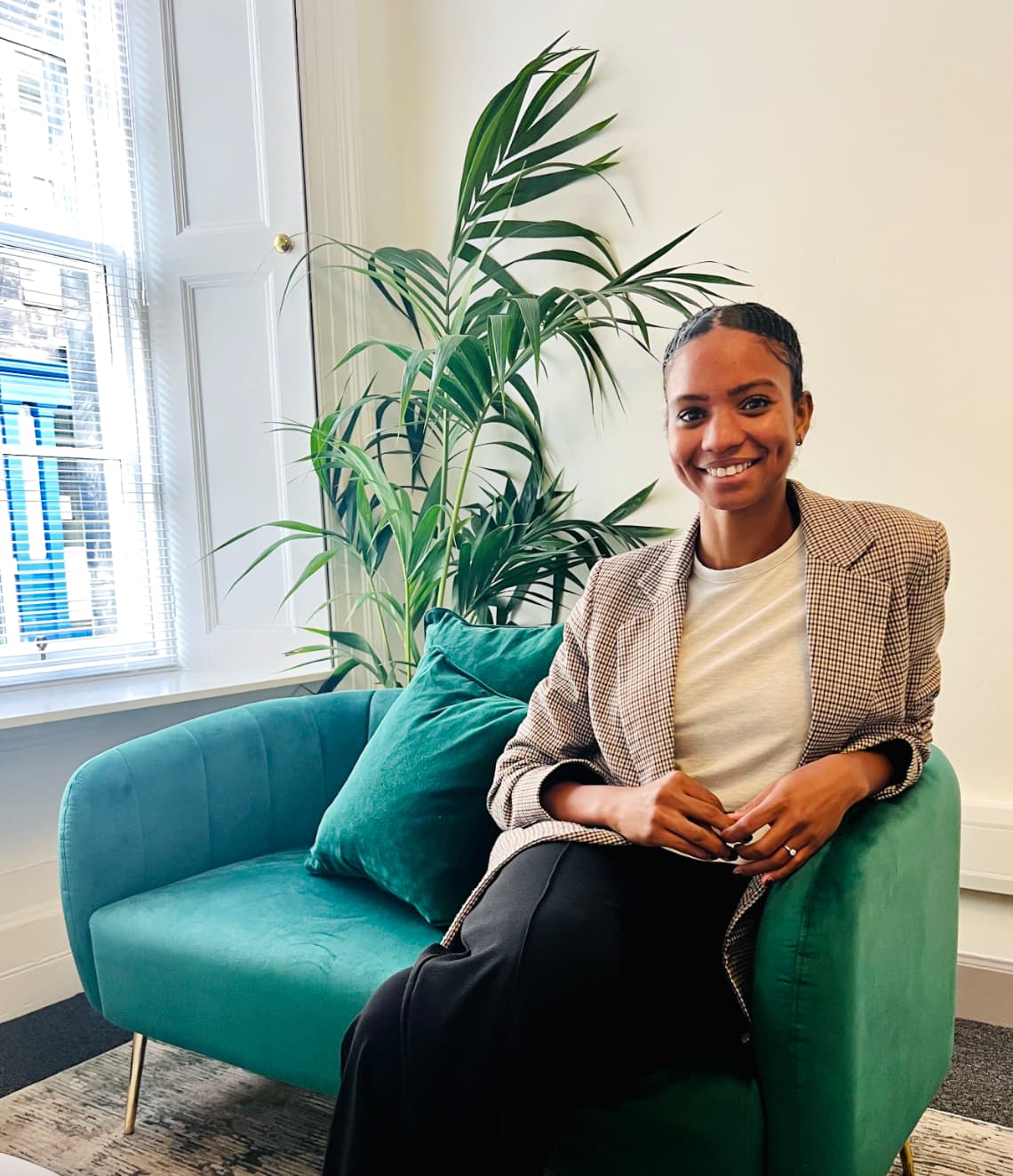 Kasia McCartney, Neurofeedback Practitioner and Schema Therapist
"I chose to practice neurofeedback after studying premedical sciences and realising that the medical system is not as effective as we may think it is. I'd also watched the dramatic changes in my own brother after he received Neurofeedback as a treatment. From there I fell in love with learning about the brain and its malleability. I was interested in going into a field that was holistic, and healthy for the human brain. I also wanted to make sure that whatever I chose as a career, was getting to the root problem of emotional and neurological disorders, rather than focusing on finding solutions for unwanted symptoms."
"At the clinic, I combine deep breathing for parasympathetic activation, neurofeedback for physiological calming, and psychotherapeutic techniques such as schema therapy for cognitive and behavioural improvement.  The brain is the command centre of the body, and when we train certain regions, or hemispheres of the brain, we are able to gain or regain our mental faculties and cognitive functioning, resulting in an increased quality of life."
Who do you work with? "I work with children, young people, and adults.Before working in neurofeedback, I worked in a Neonatal Intensive Care Unit caring for premature babies with underdeveloped brains. Working with neurofeedback, I found that being an advocate for a child's emotional needs and helping them to understand their own behaviours in a digestible way has been incredibly rewarding."
What kind of issues might children often experience? "Besides anxiety and depression, I have seen increased anti-social behaviours exhibited by children, as well as attachment disorders."
Fun fact? "I am originally from The Bahamas, I am a tea-enthusiast, and I am never without at least 3 unfinished books in my purse - I love reading!"
5-year plan? "I hope to be a Clinical Paediatric Neuropsychologists. I will be getting my doctorate within the next few years and hoping to specialise in working with children with neurological and motor disabilities."
Your advice to someone experiencing a difficult journey? "First of all, on a personal level, I would say that I have been there. I am in this field because I have been in extremely painful and dark places with absolutely no resources, emotional validation, or support. The worst thing we can do is isolate ourselves from others, and so I would highly recommend seeking support from a professional (like us!) or confiding in trusted loved ones with your difficulties and struggle."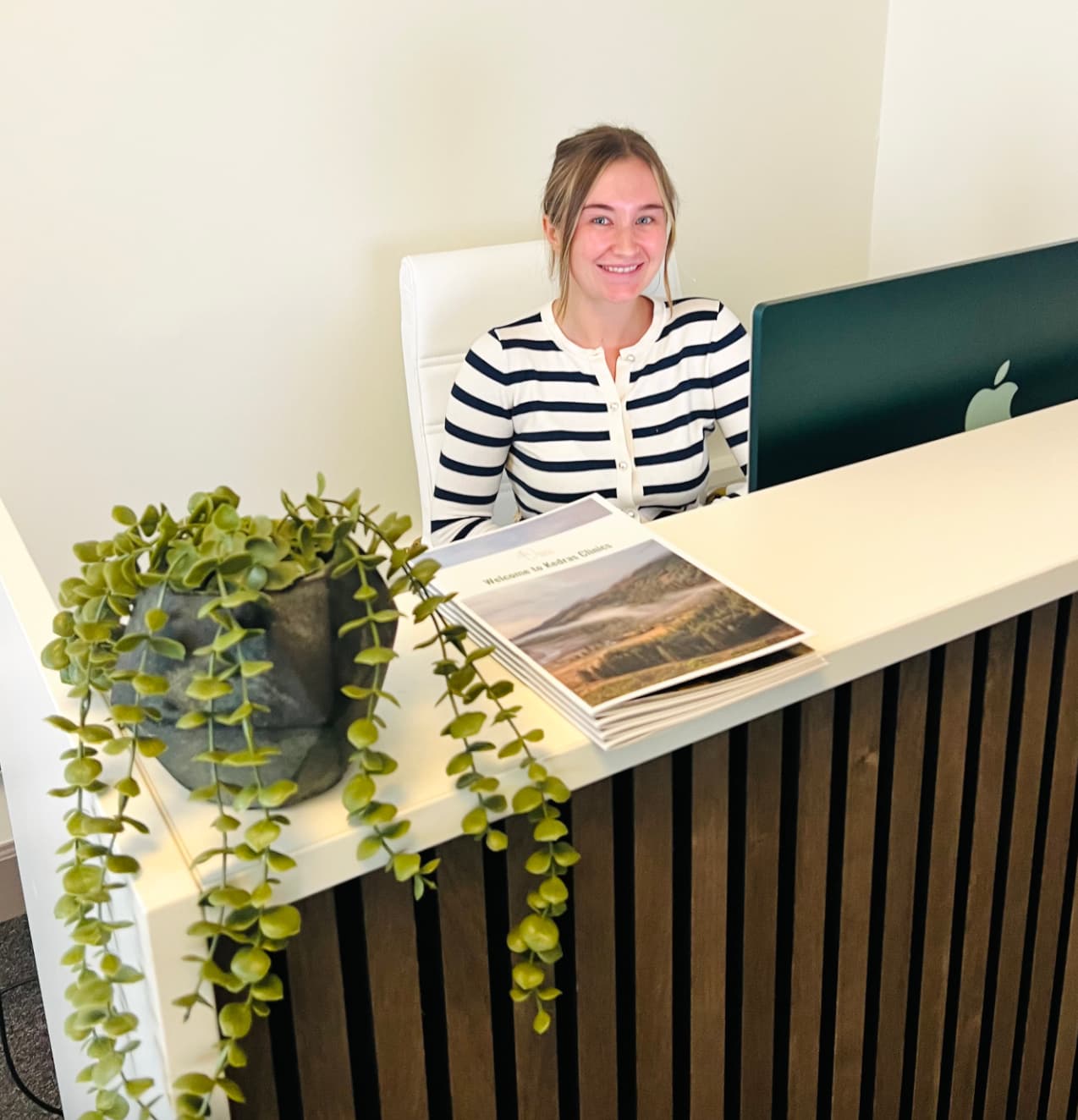 Rebecca McLernon, Front of house/Personal Assistant
"I'm originally from Northern Ireland but moved to Edinburgh 10 years ago to study at university. After a 3-year career break, to have and care for my daughter Olivia, who was diagnosed with Cerebral Palsy, I'm now delighted to be part of the team at Kedras Clinics. Before my interview, I had never heard of Neurofeedback therapy but since experiencing it, I'm fascinated by the field."
"It really grounded my emotions and made me feel bursts of happiness, it's hard to put the experience into words. I would love my daughter to experience it and see if it can help with her condition as she is beginning to suffer with a lot of pain from it."
Best thing about your job? "Every day is different and each member of staff at Kedras has a different story to tell, it's so fascinating. Mental health is something that needs to be spoken about more often so we can help make a difference."
5-year plan? "I would love to still be working for Kedras and have helped Dr Dawn Harris open a new Kedras Clinics. Possibly another baby in that time too? Who knows!"
Your advice for someone experiencing a difficult journey? "Be open to help and don't be scared to reach out when you need to. You are not alone in your journey and there are people out there who want to and can help."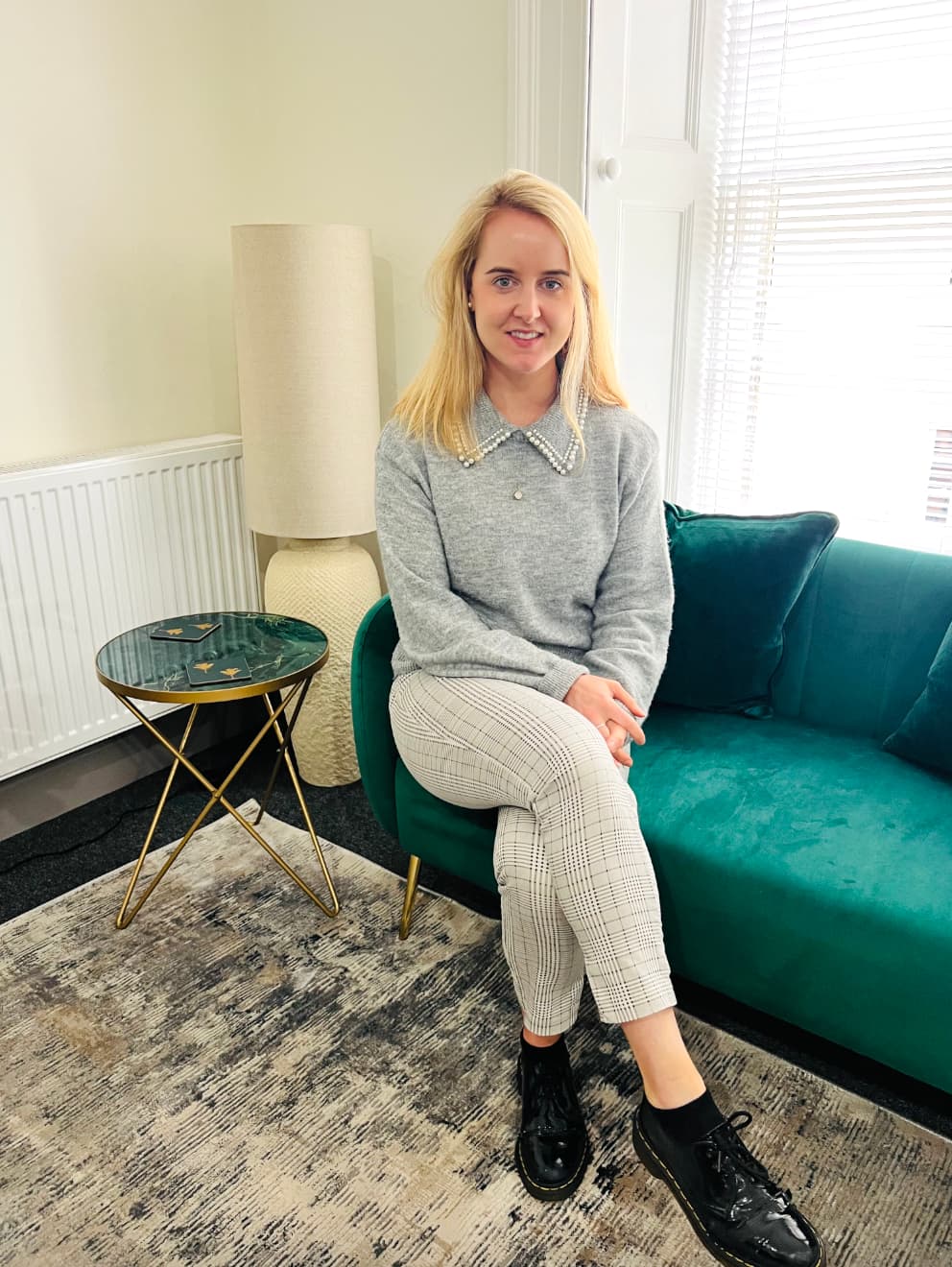 Róisín Hughes, Psychotherapist and Neurofeedback Practitioner
"I'm a Child and Adolescent Psychotherapist at Kedras Clinics with a specialisation in play therapy which means I work with children and adolescents through the medium of play therapy. I work in a systemic way which involves engaging and communicating with my client's caregivers and larger support network for example their school community or other professionals who may be involved in the young person's life. I am also trained in Neurofeedback which I will integrate into my clinical work with clients as appropriate."
Why did you choose to specialise in play therapy? "I originally trained as a primary school teacher and spent 11 years working in a variety of educational settings including marginalised, disadvantaged school communities to special educational settings. It was through these daily enriching experiences that my deep-seated interest in helping children reach their full potential grew."
"I witnessed the power and positive effect relationship can have on a child's life. This was highlighted when a pupil in my class who had experienced relational trauma engaged in play therapy with the visiting play therapist. Following this therapeutic growth stage, I observed a remarkable steadfast growth in this little boy's physiology, social-emotional skills, and peer interactions. These interactions marked an influential change in my career path as I decided to embark on a four-year Master of Arts in Creative Psychotherapy for children and adolescents."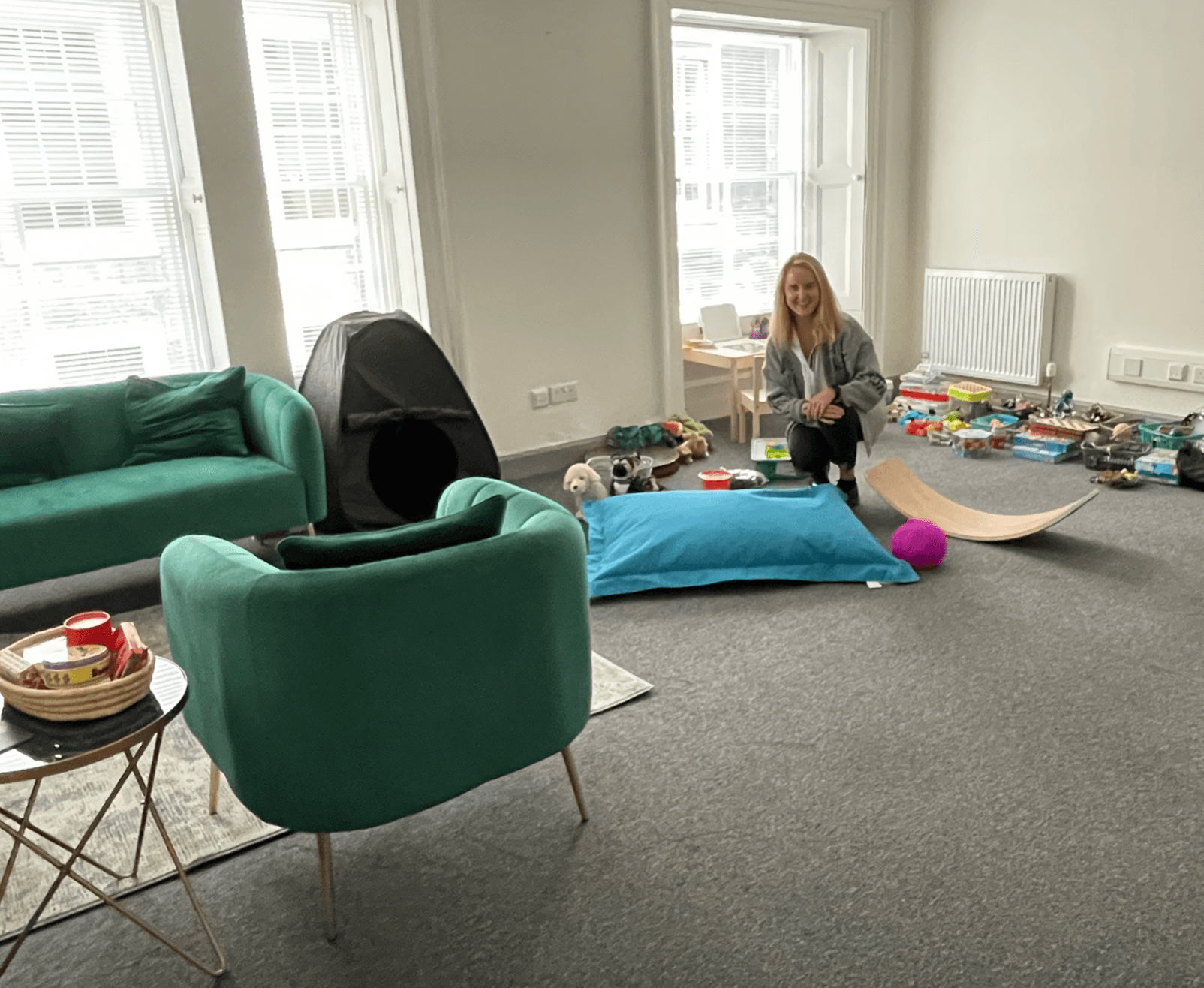 Does play therapy benefit all children? "Yes. It is important to understand that play is vitally important for children to achieve developmental milestones, emotional vocabulary, and regulation, develop secure attachments and relationships, and navigate the ups and downs of everyday living. Therefore, play is vital to every child's social, emotional, cognitive, physical, creative and language development."
"It is through play that children best express themselves, for children who have experienced trauma or a significant life event, play can enable children to re-enact and relieve such stressful experiences and subsequently gain a sense of power and control over them."
Is there a common difficulty you see a lot of children experiencing?
"Anxiety would be quite a prevalent issue which I am increasingly witnessing amongst children and adolescents of all ages. Children need to experience attuned, empathic and playful relationships. The cumulative effect of these positive interactions can bear significant changes for a child especially for a child with anxious tendencies."
The best thing about your job? "Working with children. Younger children tend towards 'magical thinking' which can be representative in their play. Entering into this and witnessing the therapeutic powers of play being active agents of change is fascinating!"
Fun fact? "I'm from the West of Ireland and have travelled to over 18 different countries! I love to travel, meet new people and explore new cultures."
Your advice for someone experiencing a difficult journey? "Reach out to a close family member or friend. I think we very often undervalue the importance of human connection. Feeling seen, heard and supported is one of life's most basic emotional needs."
Kedras Clinics are now open at 19a Hill Street, Edinburgh, EH2 3JP. Paying egg members receive 15% off during September and October 2023. To find out more about treatments offered at the clinic, click here.
*Paid Partnership