Over the weekend, I was kindly invited along to The Waldorf to experience their brand-new Afternoon Tea menu that is in partnership with the Edinburgh playhouse for Disney's Broadway and West End musical, Aladdin! As a Disney lover this was super exciting!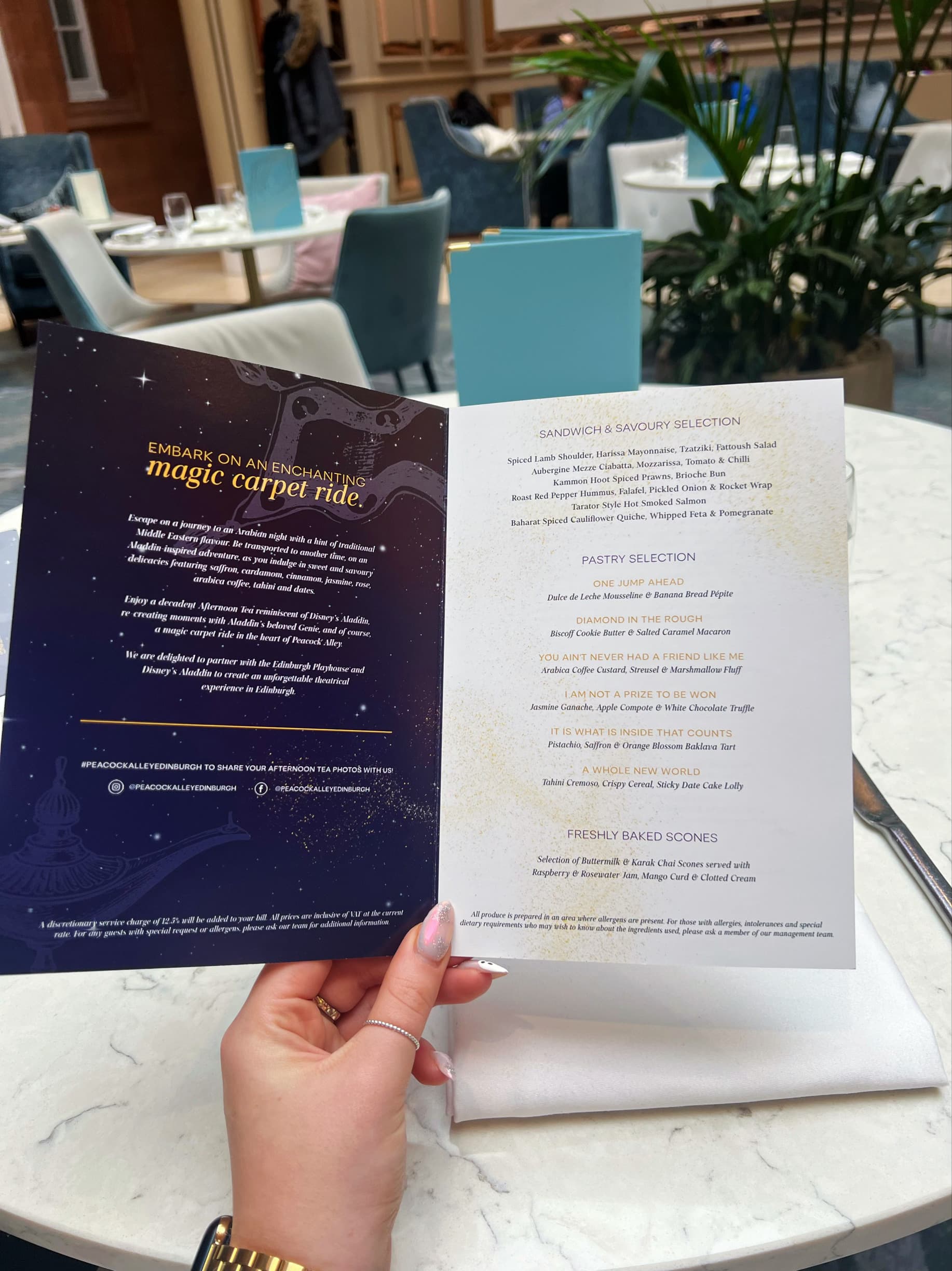 Among the Afternoon Tea options, I particularly loved the Roast Red Pepper Hummus, Falafel, Pickled Onion & Rocket Wrap for its delightful mix of Middle Eastern flavours, and the Baharat Spiced Cauliflower Quiche with whipped Feta & Pomegranate – both were my top choices!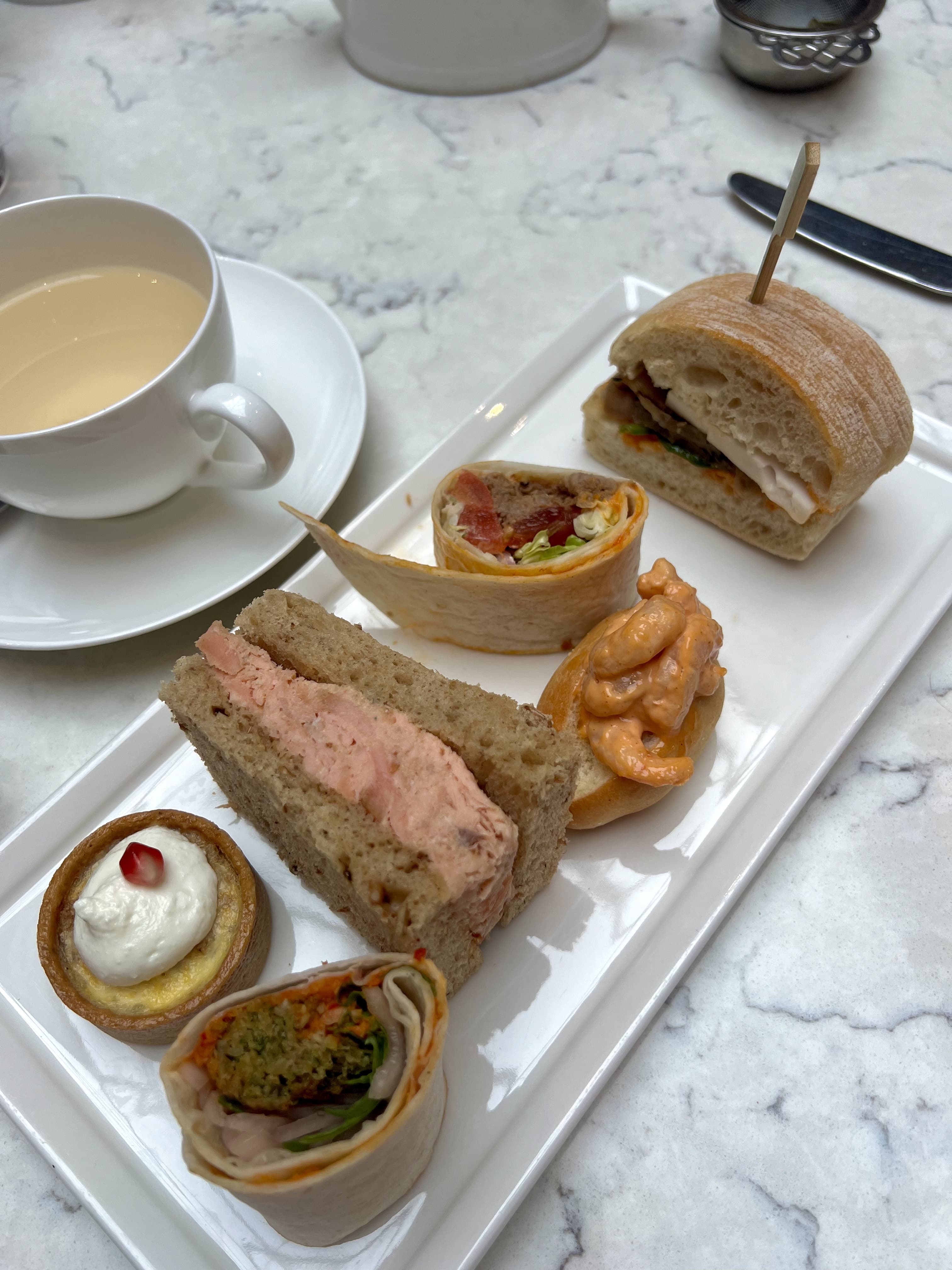 "You Ain't Never Had a Friend Like Me" was my absolute favourite dessert! It featured a rich coffee custard, delightful streusel, and marshmallow fluff with a blue colouring, making it a real treat, especially for marshmallow fluff lovers like me!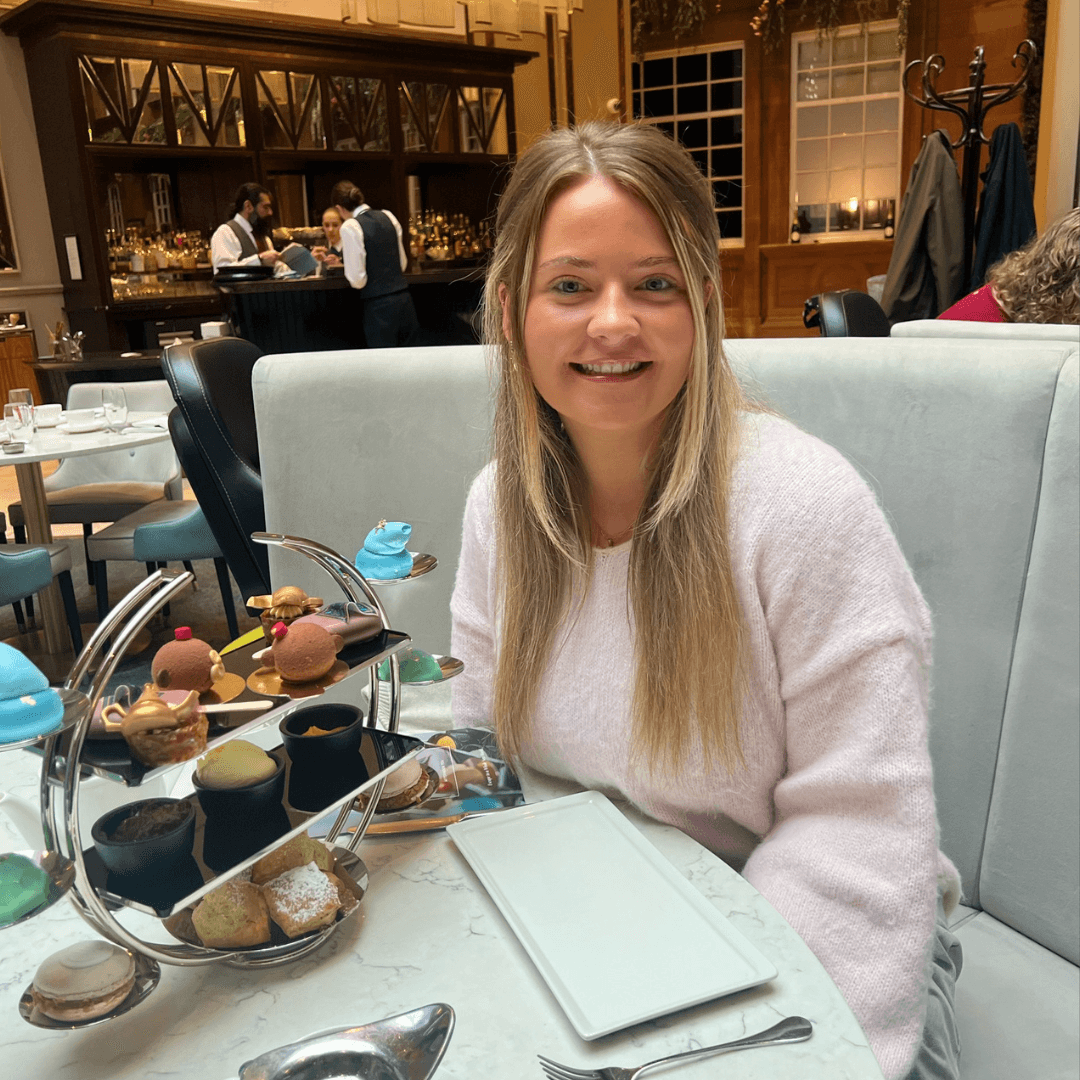 The sweet pastries and cakes were light and provided a delightful ending to the meal. They offered a wide selection of teas, and I personally loved the Scottish summer fruits blend. You can also choose from coffee, cocktails, mocktails, and champagne to suit your preferences. The way they presented the pastries topped off the experience, every small detail had been thought of – even down to the gold leaf on one of the sweet treats!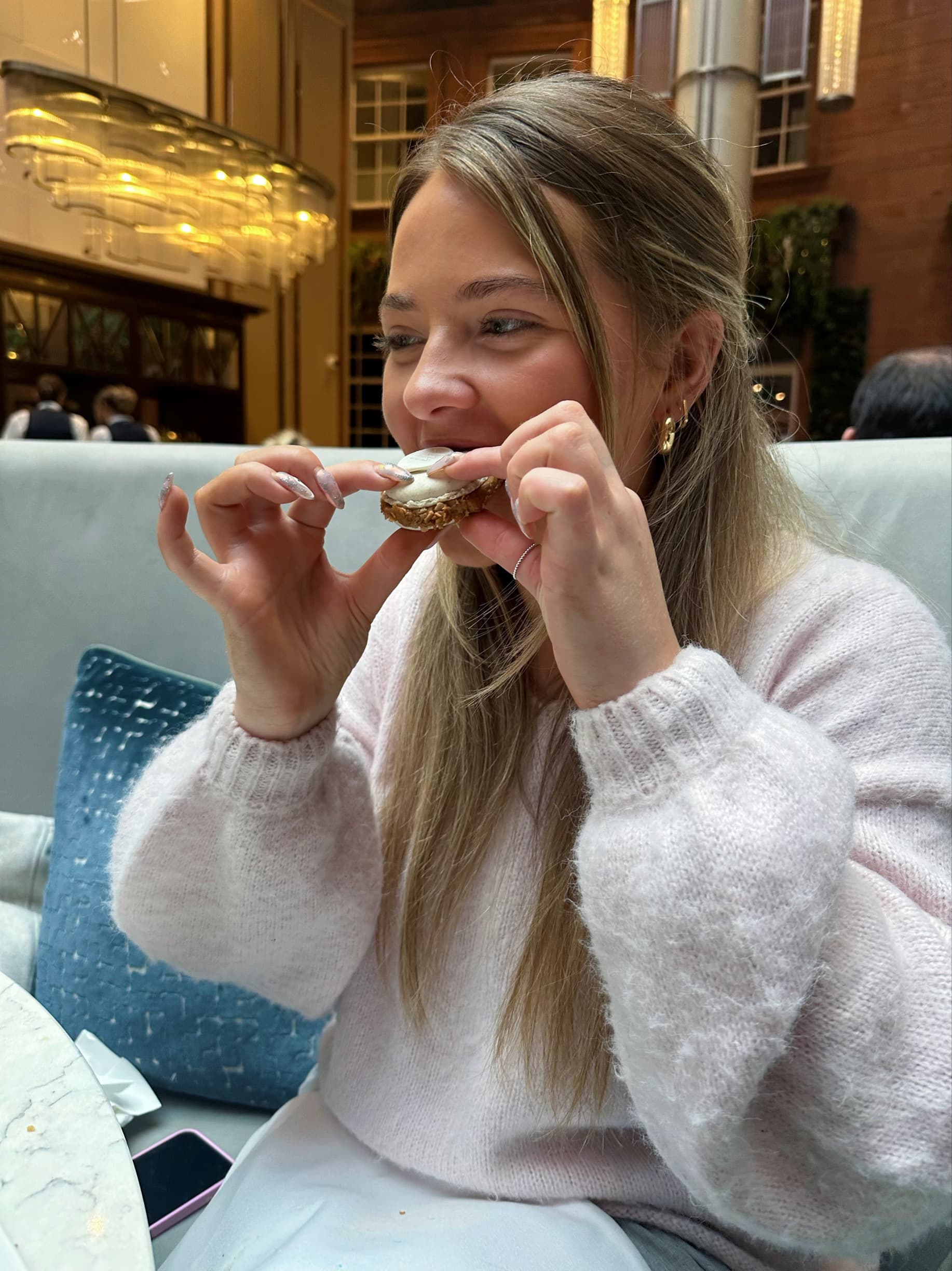 To sum it up, the Peacock Alley Afternoon Tea at the Waldorf was a truly magical experience, combining Disney-inspired charm with Arabian flair. There was nothing I didn't enjoy. They also have a smaller kids' menu with slight adaptations for the little ones. Definitely check it out, especially if you're attending the Aladdin performance at the Playhouse.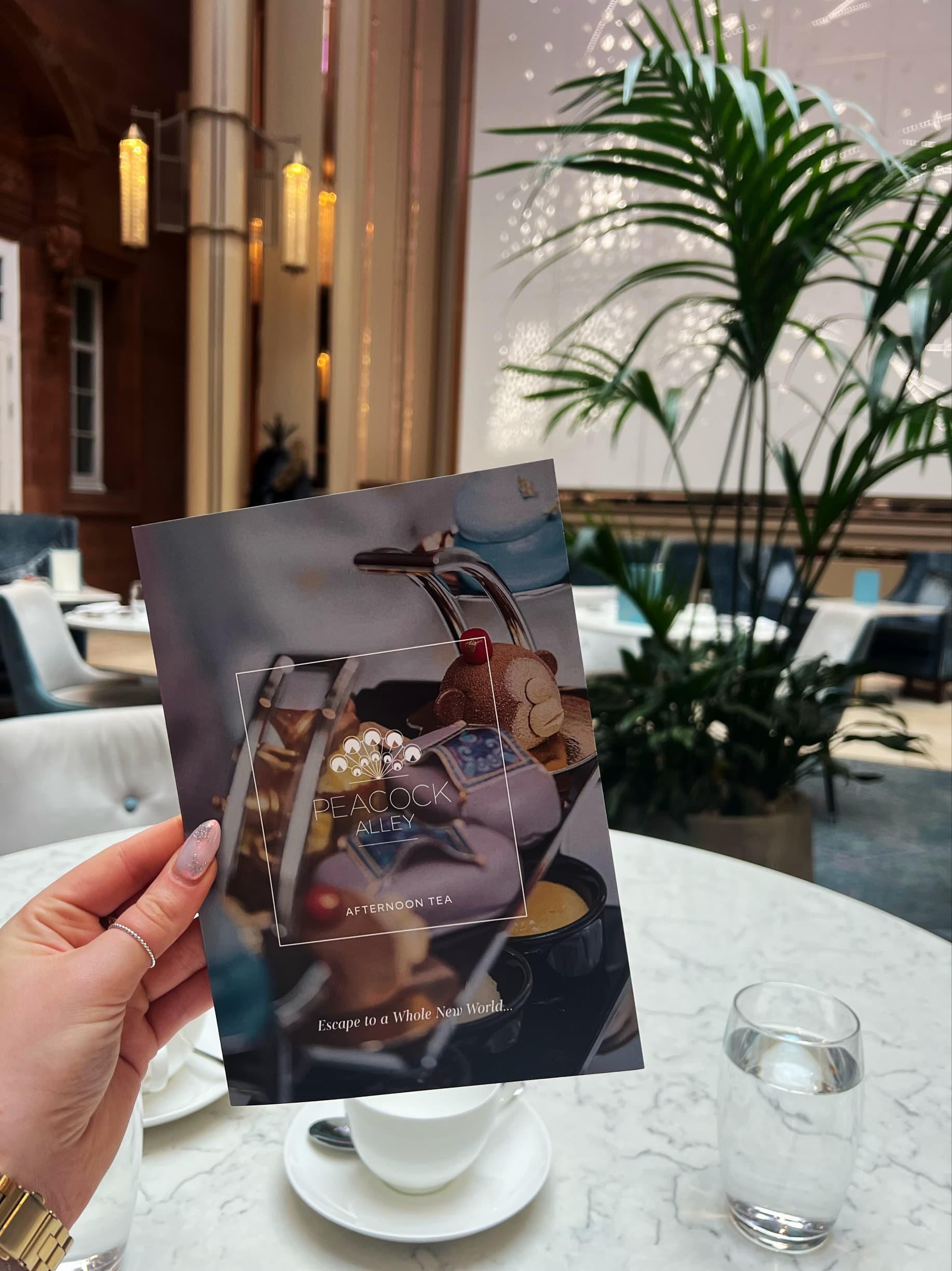 This special Afternoon Tea is available only until the 30th of November so whether you're celebrating a special occasion, treating your mini egg to a special day out, or simply seeking a taste of something new, don't miss this extraordinary experience! Packages for the musical and afternoon tea begin at £80 per person. Click the link here to book now!